5. Large Marge.
3. Francis Buxton's pool-sized bathtub.
2. Pee-wee's big screen debut…
1. …and, of course, his dance scene.
5. The Two Coreys!
4. All the rockin' mullets.
3. Jason Patric's sunglasses.
2. Corey Haim's strangely erotic Rob Lowe poster.
(And an honourable mention goes to: the greased up, shirtless saxophone player.)
5. It was Keanu Reeves' breakout movie. Do we really want to imagine a world where he doesn't go on to star in Point Break?
4. This is also the film that gave us Conspiracy Keanu.
3. Bill and Ted's bodacious slang is most non-non-non-heinous. 
2. That's Jane Wiedlin, guitarist for the Go-Gos, playing Joan of Arc.
1. "If you're really us, what number are we thinking of right now?"
"69, dude!" (air guitar solo)
5. The opening shot, a long take that lasts three minutes, manages to introduce almost every major character - and evoke a little Scorsese and De Palma along the way.
4. Notorious troublemaker Burt Reynolds reportedly spent the first day on set performing with an Irish accent. 
3. Although William H. Macy flubbed his line about his on-screen wife's promiscuity ("she's got an ass in her cock!"), director P.T. Anderson found it so funny that he kept it in the final cut.
2. The amazing soundtrack, which features everyone from the Beach Boys to ELO to The Commodores, somehow never feels gratuitous or distracts from the plot.
1. From imdb: "The original oil painting of Dirk Diggler, featured in the party scene at Dirk's house, was sold on eBay in 2001 for $500 and is now hanging on the wall of a Boogie Nights fan."
[Since Oscar nominations are usually followed by a flurry of confusion and disappointment, I thought I'd remind us all that there's something to look forward to this year…]
5. There's a very good chance that The Artist might take home Best Picture, making it the first silent film to do so since Wings, which won at the very first ceremony in 1929.
4. Chico & Rita, an underrated Spanish film that played at TIFF 2010, is nominated for Best Animated Film.
3. Christopher Plummer received another nod for Beginners after taking home Best Supporting Actor at the Golden Globes. Here's hoping for another great acceptance speech.
2. "Man or Muppet", by Bret McKenzie (of Flight of the Conchords fame), is nominated for Best Song. Does this mean we get to see Jason Segel perform it on stage?
1. Transformers: Dark of the Moon is somehow nominated for three Oscars, so if nothing else, we can all get a good laugh at imagining a world where Transformers is a multi-award-winning film. 
5. For a film with such a loose, episodic plot, it's one of the most involving and captivating of its kind. The real glue of the movie is the soundtrack, which effortlessly seams together each scene.
4. And if you need further proof of the soundtrack's importance, one sixth of the film's budget was allegedly spent on getting the rights to all those amazing tracks.
3. According to imdb, "the word 'man' is said 203 times total in the movie."
2. Peter Travers referred to it as a "shitfaced American Graffiti." (Although he did short-sightedly call Wiley Wiggins a "star in the making".)
1. "Behind every good man there is a woman, and that woman was Martha Washington, man, and everyday George would come home, she would have a big fat bowl waiting for him, man, when he came in the door, man, she was a hip, hip, hip lady, man."


George A. Romero fans all have their own take on what "Living Dead" film reigns supreme. My personal favourite? Night, although most other buffs I talk to tell me Dawn is the true winner in the series. To each their own.
 
Though not a Romero creation, 1985's Return of the Living Dead (dir. Dan O'Bannon) is the first comedy in the series, eschewing end-of-the-world panic in favour of a bunch of wacky teens who get stuck in a mortuary, hiding from a swarm of corpses revived by a toxic gas.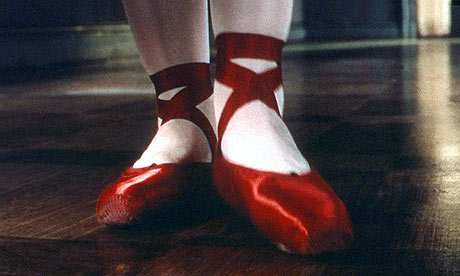 The Awl has put together an interesting "Little History of Red Shoes", which includes a few insights on The Red Shoes (1948) and, naturally, The Wizard of Oz (1939).